- Tambani Embroidery Project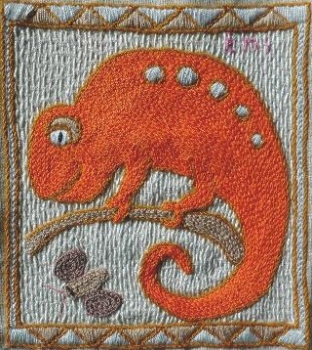 Venda
Dr Ina le Roux (who spent several years as a lecturer in the Department of Afrikaans Literature at the University of Venda, in the 'unknown place of Thohoyandou'), on returning to Johannesburg, started a quilting and embroidering initiative to enable rural African women to earn money for themselves. A deeply impoverished community situated north of the Zoutpansberg mountains, (near Mozambique), it is an area which is seriously inhospitable. There is no running water, there are no jobs and the Venda women are illiterate – all destitute and with very little hope – struggling to survive in caring for themselves and their families.
Ina writes an absolutely fascinating (and deeply moving) account of how she got involved with these desperate women, and of how she stumbled upon teaching a couple of them to embroider chain stitch, but which has mushroomed into selling their beautiful artworks at Quilt Shows and Festivals around the world.
In a nutshell, Tambani is a quilting and embroidering initiative to give these disadvantaged rural African women an opportunity to earn something for themselves. The embroidered folk stories, which are made up as appliqué blocks, record and tell of Venda folk tales and are a practical way of preserving the Venda oral tradition.
I want to include the WHOLE STORY here, but I know that space does not allow. It is a MUST read, and one is left inspired and enthralled at how making the difference for one so often ripples forward and impacts hundreds more! Who would've thought that her simple beginning of Ina having to first teach herself how to do chain stitch and embroidery, and then passing on the skill to two Venda ladies – Eni Nenzhelele and Vho-Tshundeni, would take their beautiful work (initially to a Johannesburg quilting meeting) and thereafter to Paducah, Houston and beyond!
Of the first quilters meeting in Johannesburg, Ina writes …"To my utter amazement I sold the Venda embroideries! Everybody was interested in my embroidery project. They wanted to know the folk tale behind the embroidery, they asked about the Venda women doing the work, about their families. The idea of empowering unemployed women through embroidery made complete sense to all the quilters, many of whom were also involved with self-help groups".
On the website there were no less than ten international venues where their works will be displayed and sold this year alone!
These blocks are used by quilters, knitters and crafters and are sought after and sold throughout the world. The full fascinating story can be found at www.tambani.co.za.