Using Sewing Machine - Little quilts of Love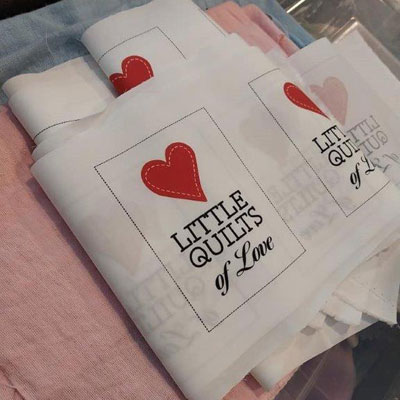 Little quilts of Love is an international movement that started more than 21 years ago in Australia. It is active in many countries worldwide including South Africa.
Little Quilts of Love is a token of empathy and compassion to parents who lost their baby late in pregnancy, stillborn or soon after birth. The idea is to provide some solace to the grief of the parents and provide something soft and caring in which the baby can be wrapped for the burial or cremation. They can also choose to keep the Little Quilt of Love as a memory at home.
The quilts are approximately 50 x 70 cm. The The top is a simple pattern in a sweet baby fabric. The back is a soft flannel or fleece. An intermediate filling is not necessary. The quilt is simply quilted or knotted so that it remains supple. As joyful as the birth of a baby is, it is so intensely sad when the child dies shortly after giving birth. Sometimes the baby has already died in the womb. This is of course always a very emotional event for the parents.
Do you want to be part of this movement in South Africa? Join us in making the Little Quilts of Love and get connected to supplying hospitals with these Little Quilts.
Contact us to get connected!
Hospitals that take part in this are:
♥ Mediclinic Panorama, Parow
♥ Life Suikerbosrand Clinic, Heidelberg
♥ Netcare Unitas, Pretoria
♥ Mediclinic Louis Leipoldt, Bellville
♥ Mediclinic Cape Gate, Brackenfell
♥ Mediclinic Durbanville
♥ Mediclinic Milnerton
As soon as we have more quilts we will extend to other hospitals. If you want to be a hospital representative for any specific hospital, please contact Ronel.
Contact person: Ronel Pistorius 07 24 76 76 78
Email: LittleQuiltsSA@gmail.com
To see some examples:
https://www.facebook.com/LittleQuiltsOfLoveSouthAfrica/