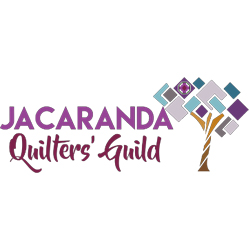 Jacaranda Quilters' Guild
Jacaranda Quilters Guild is the umbrella guild furthest north in South Africa, with a vibrant community where there is space for young and old, new and experienced quilters. Our shared passion is to be creative with fabric.
Areas - Pretoria and surrounds, Midrand, Bronkhorstspruit, Modimolle, Cullinan, Bela-Bela, Hartbeespoort
Meetings - 2nd Saturday of February, June and October
http://www.jacarandaquilt.co.za/
President/Chairlady:
Laetitia Cilliers
012 348 3766 / 072 254 1731
SAQG regional rep:
Danél Muller
082 416 7690
Media contact:
Danél Muller
082 416 7690


Gallery
Click on photos to view enlargements.
More Information
Jacaranda Quilters' Guild was founded in 1998 and is the umbrella guild furthest north in South Africa. We serve the area from Midrand up to as far north as Bela Bela and even Polokwane, and we also have members as far east as Bronkhorstspruit and Modimolle. We are quite a strong guild with more than 200 members, and 2 mini guilds, Centurion and Moot. We also boast at least 16 smaller home groups.
We aim to promote the art of quilting in our communities and especially introduce the younger generation to this wonderful way of expressing our love of fabric. We have a main charity drive each year, to which all the guild members contribute, and the home groups also have their own smaller charity projects per year.
Members fees are payable per year and in return members get 3 awesome friendship meetings per year, discounted course fees and a jam packed newsletter before every meeting. Visitors pay an entry fee per meeting.
Our meetings take place 3 times a year – February, June and October and are amazing opportunities for patrons to exchange ideas, purchase fabric, view free quilt related demonstrations and just enjoy the fellowship that is characteristic of quilters. At every meeting there is also a guest speaker on a quilt related topic, and of course the ever popular Show and Tell opportunity!