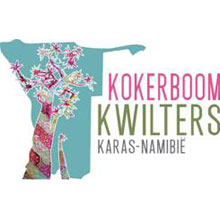 Kokerboom Quilters' Guild
Kokerboom Quilters of Namibia is a group of enthusiastic ladies from a farming area in Southern Namibia. We accommodate all interested in quilting, crocheting and knitting and who also have a teachable spirit.
Province - Namibia
Areas - Karas Namibia
Meetings - Every second month
President/Chairlady:
Ri√ętte Wasserfall
+264 81 2750030 (WhatsApp Only)
Contact Person:
Elize Visser
+72 72 1306110 (WhatsApp Only)


Gallery
Click on photos to view enlargements.
More Information
Pictures:
Gloudien Minnaar was our guest speaker at the Cuppa for Cancer fundraising. It was held in the NG Kerk Karasburg gemeente Dutch Reformed Church and it is in Karasburg.The tables all set for the very nice lunch we had for the fundraising in the church hall with our own 2018-2019 quilt exhibited.The raffle quilt we made and we were grateful to donate the wonderful amount of R 85 600.00 to the Cancer association of Namibia.
Members are Afrikaans- as well as Nama-speaking. Ages vary from twenty up to 70+. They also do not mind travelling long distances to attend meetings every second month.
This group is much privileged to attend regular workshops/classes by famous South African tutors visiting – Doortjie Gersbach, Iessie Steenberg, Bettie van Zyl and Kathryn Harmer Fox. Some quilters also attend quilt festivals and workshops in South Africa.
The internet keeps us informed and up to date with our lovely hobby all over the world.
KokerboomKwilters 2019 Lappedag dates:
• 13 February
• 3 April
• 12 June
• 7 August
• 23 October ( our yearly fundraising for the cancer association and exhibition)
• 4 December
Special projects:
We are mostly farmers and we have Nama and Ovambo speaking domestic workers. We do try to teach them to quilt or crochet. The Nama has a natural instinct with quilting, traditionally they wear Nama dresses which is a dress made with colourful pieced fabric. They usually work by hand and are extremely neat. Their work can easily be seen as being stitched by a machine. We have a very talented member Ronell Matroos and her crochet blankets are widely appreciated and her work really is exceptionally neat. Contact me if you need to place an order. I will attach a photo. Liezbet Swartbooi might be one of the talented quilters I have seen, she works by hand and her work is very neat.
During our August Lappedag we will embellish fleecy blankets as donations to the inhabitants of our local old age home Kenmekaar. In 2016 we all knitted mother Theresa jersey's and one of members distributed it amongst the premature born and sick babies in our community.
We are always happy to have teachers :Doortjie is a regular, Iessie Steenberg will visit again in 2018. Bettie van Zyl visited in 2016 and we would love to have her here again. And we are very excited to have Kathryn Harmer Fox in 2017. To have more people attending we will be having the course in Upington. Other groups can contact Kathryn or myself if you can accommodate Kathryn before or after 4-7 October. Her route is East London to Upington. But we will bring Kathryn to Namibia and show her the Fishriver Canyon and part of the beautiful south of Namibia.
Our fundraising is a big one on the calendar in Karasburg. We see this as a way to give back to the community and the country. We invite all the cancer patients as our guests of honour and we present a gift ( a handmade "give your heart" bag full of special treats) and support to each of them. As in South Africa the cancer association is a friend of those that do not have a medical fund. Recently CAN bought a interim house in Windhoek where children and their parents are well looked after while being busy with treatment. The community really support us in this big effort and in 2016 we raised R62 910.00 for CAN. We are grateful that less than 30 ladies can take on a fundraising and make a success of it. The biggest amount was made with a raffle and a quilt as first price and a crochet blanket as second price. Iessie 's comment is that we usually make beautiful quilt for this raffle.
Three of our members took part in the Pan African Quilt Challenge that was launched by Good Hope quilters. We made lovely quilting friends and we were grateful to be part of Renee de Beyers special project. Riëtte Wasserfall, Elize Visser and Sannie Marais.
Quilting news: we have made bargello's, colorwash Quilts the Doortjie way, a pixel quilt the Bettie van Zyl way, Klein blokkie quilts Iessie's way, Imme van Deventer and myself made our very own Dear Jane quilts. Joey Nieuwoudt finished her grandmother's fower garden quilt and even quilted it by hand. We are all busy with something big and small, with a machine and a hand project. The crochet ladies are very creative and we have seen beautiful afghans.
Namibia Kwiltfees 8-10 Oktober 2019 Windhoek
Co-Organizers - Yvette Venter (+264 81 128 3157) Annelie van der Merwe (+264 81 232 0707) and Elize Visser (WhatsApp call only 072 130 6110)
Teachers -Elaine Barnard, Elize Visser, Ina Meyer, Marié du Toit, Marinda de Wet, Marné Strauss, Michelle and Ronél Pistorius from Cape Town.
Exhibition – of quilts and the competition quilts will be on display.
COMPETITION - Our theme for the competition is "Van Toeka tot nou" and entries close on 15 August 2019 - the quilts need to be in Windhoek on 15 September 2019. Our Prize giving ceremony will take place on the evening of the 7th October BERNINA WINDHOEK sponsor a BERNINA machine for the first prize and Elna Piekfyn Windhoek a machine for the second prize. Gondwana is the sponsor of the third prize.
Please contact any of the organizers if you do want to participate and we will gladly send you the information and piece of fabric.
Vendors - Country Quilting, Quiltalk, Liefie Love from Middelburg, Bernina and Elna both from Windhoek and perhaps even Pfaff SA.