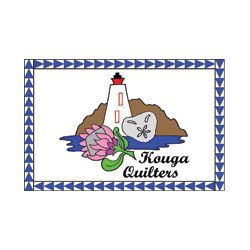 Kouga Quilters' Guild
The purpose of the Kouga Quilters Guild is to promote and preserve the art of quilting through friendship, knowledge and encouragement. The Guild consists of quilters from Jeffreys Bay, Humansdorp, St Francis Bay and Cape St Francis.
Province - Eastern Cape
Areas - Kouga region Jeffreys Bay, Humansdorp, St Francis Bay, Cape St Francis
Meetings - Quarterly - 2nd Tuesday of March, June, September and November
President/Chairlady:
Macky Cilliers
082 498 5512
Contact Person:
Tessa Suckling (Secretary)
082 372 2332


Gallery
Click on photos to view enlargements.
More Information
We meet quarterly at 13:30 at St Marks Anglican Church in Humansdorp. We have 3 sub groups who meet at various venues, some weekly and some bi-weekly. Apart from quarterly meetings, the Guild offers activities celebrating National Quilt Day every year, an annual Quilt Exhibition as well as a Mystery Quilt Day. We also support various charities by donating quilts or supplies where needed.
The quilters of the Kouga region have been getting together since the early 1990's and are comprised of two groups – one in St Francis Bay and one in Jeffreys Bay. They got together from house to house, and once every quarter, the two groups would have a joint meeting. The groups grew, hosting Dias Quilters Guild since 2002. The Kouga Quilters Guild was constituted by the end of November 2009.
The Kouga Quilters currently have a membership of 27, which not only include quilters from the Kouga region, but also members from Port Elizabeth. The three sub-groups, namely the Fynboskwilters, the Lighthouse Quilters and the Thatchpatchers, each get a chance to host a quarterly guild meeting, by supplying a speaker or demo, serving tea and cake, as well as supplying a raffle. The Dias Quilters Guild is invited annually to join the Kouga Quilters for a quarterly meeting, for which the Committee are responsible and all members help with tea and cake. A typical quarterly meeting also includes various vendors, Show & Tell, as well as an array of lucky draws.
The Annual General Meeting takes place at the first quarterly meeting of every year (in March) when a new committee, comprising of 5 members, is elected. The annual membership of R100 is also due in March every year.
The Kouga Quilters Guild boasts 2 Master Quilters in their midst, a SAQG Recommended Quilt Teacher as well as a SAQG Accredited Quilt Teacher and one SAQG Accredited Guild Judge.