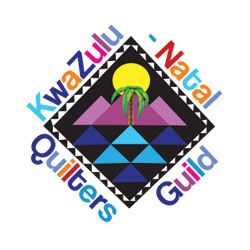 KwaZulu-Natal Quilters' Guild
KZNQG is the umbrella guild of all KZN guilds. The quarterly meetings are proceeded with an interesting newsletter filled with loads of quilting information. The meetings host a guest speaker, a display of quilts, vendors area and demonstrations to excite
Province - KwaZulu-Natal
Areas - Midlands, South and Northern Natal coastal area's, Pietermaritzburg and Durban
Meetings - Quarterly
http://www.kznquiltersguild.co.za/
President/Chairlady:
Sue Cameron
082 854 9883
SAQG regional rep:
Leanne Stewart
083 654 7096
Media contact:
Debbie Becker
083 778 5247


Gallery
Click on photos to view enlargements.
More Information
The guild was formed in 1989 as the Regional Guild for KwaZulu-Natal. The aim is to promote, develop and teach quilting skills. A quarterly newsletter is sent to approximately 200 members with Regional, National and International quilting news, articles and information. This newsletter also appears on our website, as a means of reaching as many people as we can. All events for each year can be viewed on the website. As one of the hosting guilds for national festivals, the guild held very successful festivals in 1990, 1996, 2004 and 2015.
Meetings are held around March, May, August and October at St Agnes Church in Kloof. Demonstrations and/or workshops, guest speakers, vendors selling their wares, raffles and fundraising tables are the usual format for the meetings as well as the large display of quilts made by members.
Every 2 months we have QUILT ACADEMY classes, aimed at anyone who would like to learn quilting or improve existing skills. They are held on Saturdays in Hillcrest from 9.00 to 15.00. For a nominal cost, you can learn from established quilt teachers. There are also plenty of helpers to assist you if you have questions. These classes are very popular and well supported.
One of our affiliated guilds, GRASSROOTS QUILTERS GUILD was instrumental in the organizing and completion of the 26 PEACE quilts. Quilters worldwide were invited to make PEACE BRICKS which were used in a wall built of fabric. This WALL of PEACE exhibit would be a concrete show of commitment to PEACE, especially important in SA. These quilts are on permanent display at the International Convention Centre in Durban.
For more information, contact LYN GONZAGA at Email Lyn.
Editor and website Simona Damerell 082 974 2569 / Email Simona