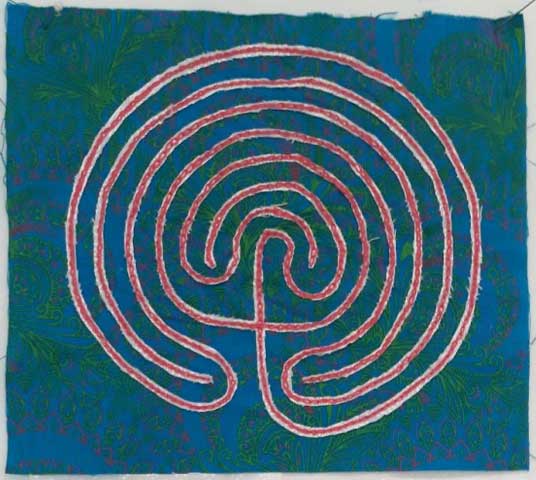 Mindful, Meditative and Slow Stitching
Mindful, Meditative and Slow Stitching is becoming increasingly popular. In many ways I believe that these new terms or labels are revisiting elements of sewing that most quilters have experienced in one way or another.
For more information:
Tania Botoulas
082 596 8506
tania.thewordshop@gmail.com
Gallery
Click on photos to view enlargements and captions.
More Information
Even though Slow Stitching celebrates predominantly work done by hand, machine quilters may also experience the "flow" state that one enters during a particularly creative experience in which time is suspended and thoughts enter a different state of consciousness that leaves one feeling at peace, satisfied, and fulfilled. Dr Renata Schoeman's article elaborates on both the creative elements and the benefits of embracing a hobby such as quilting, which includes the slow processes of selecting fabrics, cutting, ironing, "playing" with fabric choices, lay-out, bindings and label making.
Initially seduced by the speed of machine sewing, I have come to embrace slower paced hand work which is referred to as Mindful Stitching. Experiencing first-hand the deeply healing and calming effects of daily stitching meditations, I began to combine my love of quilting with process art, which focusses more on the experience than the end result. It celebrates improvisation and allows for needle and thread to connect hands to heart. This encourages an embodied process that speaks to deeper, sometimes unconscious thought patterns which emerge during the process. Setting intentional themes allows for an exploration of self with awareness, an open mind, and an element of adventure.
I have named my meditative work "Soul Stitching" to reflect the deeper elements of awareness, soul searching and reflective aspects that emerge from this practice. Using these pieces to create quilts has highlighted the need for me as a quilter to evaluate my impact of my world and its surrounds. An avid collector of fabrics, I am consciously assessing the environmental impact of my choices and find myself celebrating the upcycling and re-use of material, especially that which holds many dear memories. My grandmother and mothers' treasured linens, my daughters' much-loved clothes, and my father's shirts add layers of meaning that are slowly deliberately placed, allowing time for reflection, prayer, and gratitude.
Finally, I have challenged myself to utilise local fabrics and create quilt blocks from the scraps that are usually discarded (yes, I am THAT quilter! The one that goes through the bins at the end of a class)! It reminds me to be grateful for the 'little things' in life and that "bietjie bietjie maak baie". I have become so passionate about the benefits of mindful stitching, that I have begun facilitating workshops to celebrate and deepen the creative quilters experience.