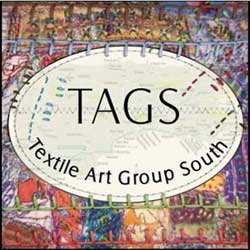 Textile Art Group South (TAGS) Quilters' Guild
We are an inspiring group who work with textiles in a creative way, each contributing to the group in her own individual way.
Province - South Africa, Western Cape
Areas - George, Mosselbaai, Oudthoorn, Knysna
Meetings - 3rd Wednesday of every month
President/Chairlady:
Lesley Jurgens
084 553 4269


Gallery
Click on photos to view enlargements.
More Information
We started at the beginning of 2011 with only a few members including 3 previous members from TAGG in Johannesburg. We met once a month in George and did quite a few projects together e.g. we each chose an artist as inspiration and did small pieces of their work. (see photograph 1 and 2) A few hands-on workshops were also done e.g. painting on misty-fuse, foiling on fabric and using wax crayons as a form of batik. We paid visits to the studios of other artists e.g. Beatrix Bosch and Outa Lappies where he stayed in the bush. Our first group project was in a similar vein to a round robin using Hundertwasser as our inspiration and we made a quilt (see photograph 3). At this stage our group only had about 5 members.
Due to our demo's at the Outeniqua Quilters Guild our numbers started to grow and we then moved our monthly meetings to Bernina George. Our last exhibition was at the NG church in George in 2018 where we exhibited with the Outeniqua Quilters Guild. We had wearable art as out category and quite a few members got rosettes.
We also had our own retreat in 2018 at de Oude Meul near Oudtshoorn which was awesome as we really got to know one another. Each one at the retreat had a chance to do a demo and fun and learning was the order of the day. It was at this retreat where our next project was born, during a game we played with cloth. Using Matisse as our inspiration each one of us made a block using the cloth from the game and many techniques including reverse applique, trapunto, embroidery, etc. This then becomes our Matisse quilt (still under contruction) inspired by his paper cut-outs.
Our group consisting of 17 members are very motivated and we really inspire each other with ideas and projects. This year we hope to do another retreat and some of us are attending a course by Rosalie Dace. Many of us are also taking part in the quilting festival in Gauteng and doing a challenge set out by Antoinette Kriel. All in all a very busy 2019 (photographs from number 4 are works of some of the members of the group).