Due to Covid-19 pandemic the SA National Quilt Festival has been postponed until 2022
CLICK HERE FOR PHOTOS OF OUR BGM AND 30th BIRTDAY CELEBRATION!!!
The South African Quilters' Guild was founded in 1989 at the 3rd National Quilt Festival held in Bloemfontein and has been the co-ordinating body of quilting in South Africa since then. The SAQG is the National Guild of South Africa, is a non-profit association with 11 Regional Guilds represented and other quilting groups that are affiliated to the SAQG.
MISSION STATEMENT: To foster an environment in South Africa where all people interested can reach their full potential in quilt making, nationally and internationally.
DUTIES: The SAQG is responsible for:
Establishing Rules for National Quilt Festivals;
Training Quilt Judges to officiate at National Quilt Festivals;
Running Quilt Teacher Accreditation courses;
Promoting quilting in South Africa, the African continent and abroad;
Documenting of Heritage Quilts and SA Quilting History;
Involvement in Community and Outreach Projects, to lend support and encourage empowerment by sharing quilt-making skills.
About the SAQG logo
The SAQG logo represents the link between the quilting guilds. See the 'link' in blue and yellow on a white background, with the triangle shapes above and below, in the colours to the South African flag. The SAQG representative in each region acts as a link to the main National Guild.
NATIONAL FESTIVALS: The first National Quilt Festival was held in Cape Town in 1988. The National Festivals are now held biennially on a rotational basis by four of the bigger Guilds - Dias, Golden Rand, Good Hope and Natal.
The next SA National Quilt Festival will be hosted by Good Hope Quilters' Guild.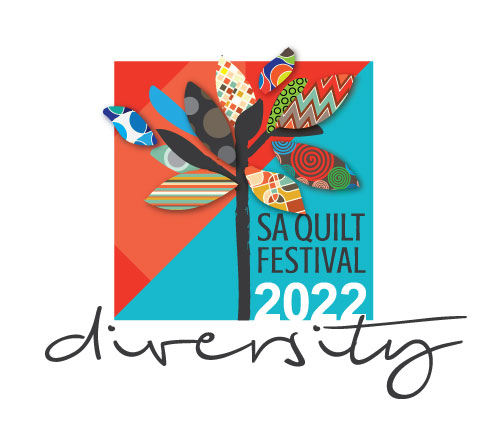 The 21st Quilt Festival in South Africa, to be held in Stellenbosch in 2022. The theme is Diversity.
NEWS FLASH IMPORTANT MESSAGE
South African National QUILT FESTIVAL
CORONA causes Challenges and Cancelations - But we have a Plan!
The Covic-19 pandemic and lockdown has brought new challenges and ways of planning how to navigate the future. The uncertainty about the recovery of the economy, and when schools will resume, what the term dates are and if and when it is safe to be in buildings and whether we need to physically have personal space and or socially learn to keep our distance.
Changes in the way humans behave, socialize and will have to operate are on everybody's minds.
This concern is certainly on the minds of the SAQG and hosting guilds of the National Quilt Festivals, who together have taken the wisest and carefully considered decision to change the year of the next National Quilt Festival from 2021 to 2022.
The South African Quilters' Guild endorses the decision and supports the hosting guilds of the future festivals.
By delaying the festival, for safety's sake, we are gaining more time to plan and work on quilt entries and have a successful Festival in 2022.
Visit the website for the latest information: http://festival.quiltsouthafrica.co.za/